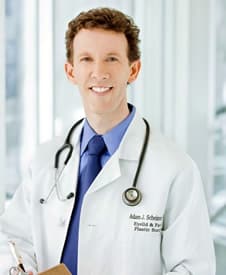 Dr. Adam J. Scheiner is a Laser Eyelid and Facial Cosmetic Surgeon in Tampa. He has expertise in many modern facial cosmetic surgery techniques, as well as non-surgical treatments, to improve your appearance with minimal downtime. Dr. Scheiner's patients appreciate his friendly, approachable manner, as well as his advanced skills and attention to detail, a unique combination that places him among the top plastic surgeons in Florida.
Dr. Scheiner received his medical degree from the University of Pennsylvania and completed his internship at St. Barnabas Medical Center. He completed his Ophthalmology residency at the University of Pennsylvania's Scheie Eye Institute. To provide the kind of facelift Tampa, Florida can trust, Dr. Scheiner continued his studies in an Oculoplastic and Laser Facial Aesthetic Surgery Fellowship with Dr. Sterling Baker, the pioneer of Laser Eyelid Surgery.
Highly regarded for laser blepharoplasty, Tampa plastic surgeon Dr. Scheiner is also respected for his skills and experience administering BOTOX® Cosmetic. In fact, he is one of only a select few physicians in the U.S. chosen by Allergan, the maker of BOTOX Cosmetic, to be a National Education Faculty member. In this capacity, as well as for other groups, he trains other physicians in the safe and effective cosmetic use of the product. In his own practice, Dr. Scheiner uses treatment templates to create customized results for every patient, which also enables him to reproduce results during future treatments.
Dr. Scheiner's other professional accomplishments include co-authoring book chapters on laser eyelid surgery, presenting original research in the use of lasers for cosmetic surgery at national and international scientific meetings, and lecturing for other physicians on the use of lasers for surgical procedures.
A Dedicated Teacher
Dr. Scheiner is not only one of the top plastic surgeons in Florida, but he is also a dedicated teacher. He takes the time to educate other doctors about the proper use of injectables and other tools of nonsurgical facial aesthetics. As a speaker for Palette Resources, this Tampa plastic surgeon travels the country to teach other healthcare professionals about BOTOX® Cosmetic and other popular injectables. His students have found his seminars highly informative. Here's what just one student had to say:
Dr. Scheiner,
I am writing to express my gratitude for sharing your expertise with me. It was truly a pleasure having the opportunity to learn the new HA injection techniques during our one on one session. I am very excited to put my newly acquired knowledge to use. You are a very good teacher.

Once again thank you and hope to see you again at another training session.

Ramin R. Samadi, M.D., FACEP, FACP
President & CMO, Tarrant Acute Care Physicians, PA
Chief Medical Officer, TrinityXpressMed Medical Centers
Chief Medical Officer, Artisan MedSpa, Laser & Wellness
Click here to learn why Dr. Scheiner should be the plastic surgeon of your choice for your Florida facial plastic surgery and other cosmetic procedures. In his spare time, Dr. Scheiner serves on the Board of Directors for The Spring of Tampa Bay, an organization established to help eliminate domestic violence in the local community.